WEDNESDAY: SEWING
The fourth day of the week should be given to sewing or mending clothing of the well-dressed family.
It is common for many housewives to remake outgrown clothes of older children for younger ones.
When remaking is not possible the editors recommend that fabric be purchased. The cost of purchasing fabric is low compared to the time and effort spent in spinning and weaving. The editors suggest that the spinning wheel be set aside so that the housewife will be free to spend more time on the other household duties.
The well-trained daughter will from early age be used to a needle and thimble in hand. The homemaker should include the daughters of the home in mending and sewing not only for the help they offer but also for the training.
No home should be without one of the sewing machines which are now coming into wide use. The time and effort saved by the use of the machine fully justify the expense.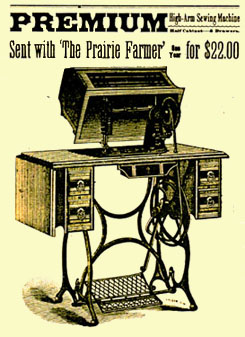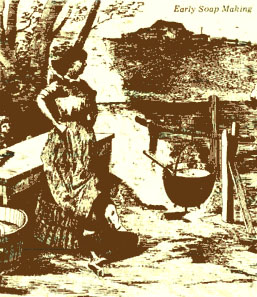 THURSDAY: CATCHING UP
This day should be set aside to complete the unexpected needs of the week or the seasonal jobs.
In spring, the garden and flower beds will more than require the extra time on the catch-up day. Summer and fall bring canning and drying which will place extra demands on the housewife.
Periodically soap will be made, coffee beans will be roasted, knives will be sharpened, quilts will be made, and on and on.
The efficient housewife will have no trouble finding work to fill this day in her weekly routine.